Ice Wyrms are huge, wingless dragons that are primarily found in the region of Isheim to the north of Terrinoth.
Description
Edit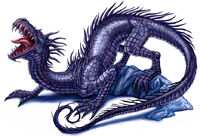 Massive beasts with rock-hard scales and cobra-like necks, ice wyrms are incredibly powerful but somewhat rare throughout Mennara. These creatures prefer to live in icy areas to strengthen their already durable scales.[1]
Ice wyrms are intelligent and cruel, and enjoy encasing their opponents in tombs of ice. Only the strongest adversaries are able to free themselves of their icy imprisonment.[2]
The most common theory for the creation of ice wyrms is that they were born from the Rime Storm, a magical maelstrom that had descended upon Isheim many centuries ago.
Although ice wyrms are inherently wingless, many have been able to grow great wings of cold leather, enabling to glide over glaciers in search of prey.[3]
Notable ice wyrms
Edit
References
Edit
External links
Edit